Planning your journey is the first, most-logical step when embarking on a trip and using Highway Weather. In fact, it's our most popularly used function of the application!
While we have other articles in place to help travelers learn about Highway Weather in an in-depth manner, this video and corresponding article will help you hit the road quickly and arrive safely by ensuring you're well-informed of the travel conditions that await your journey.
Let's get started!
Home Screen
Entering Starting Location & Destination(s)
Upon opening Highway Weather, you'll first hit the Home Screen where you'll be asked to enter your starting location as well the destination(s) to which you'd like to travel. Here's what you'll see: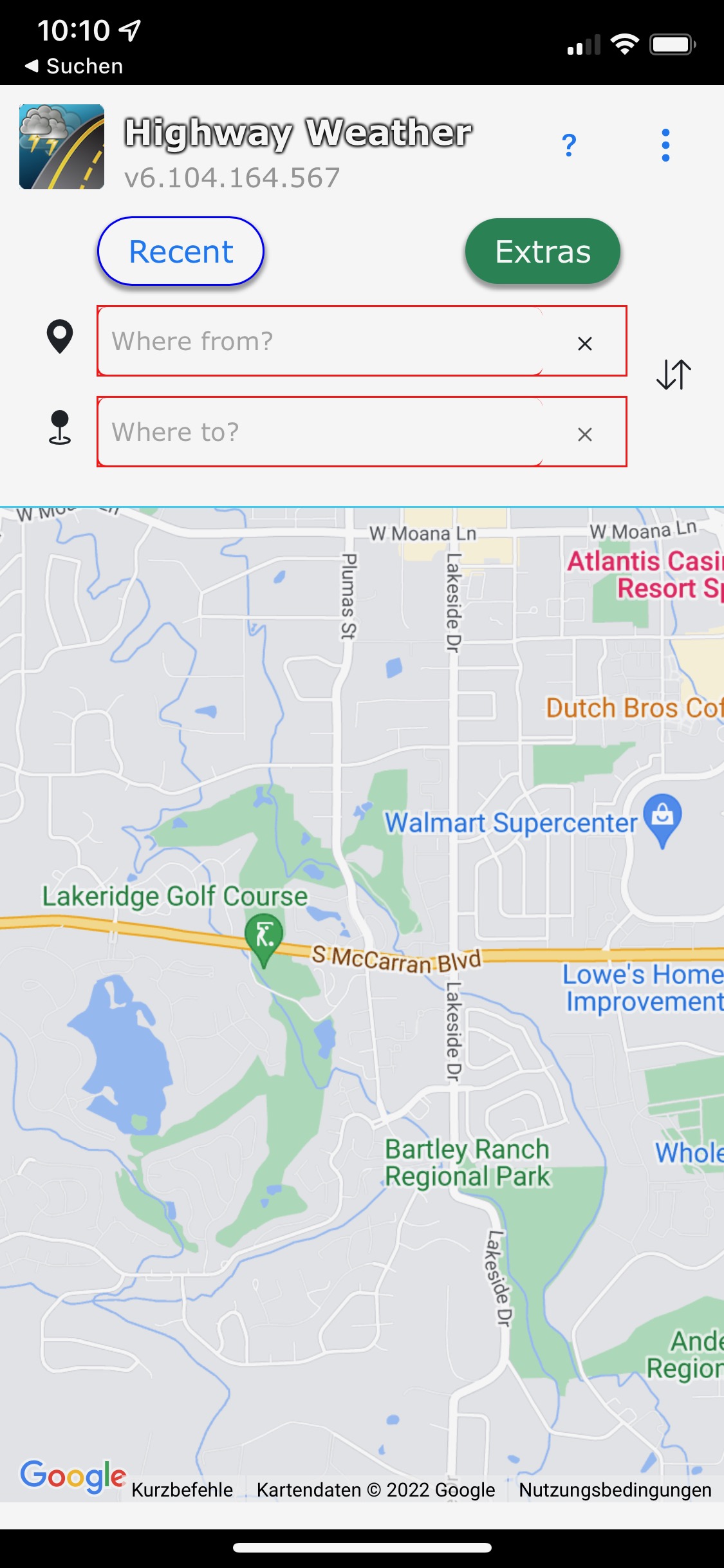 1. Either enter your starting location OR...

Alternative Method: Tap the "Use Current Location" from dropdown

2. Enter one or more destinations

You may be able to select your destination from an auto-generated list.

Here's what you'll see when your locations are set:
Setting your settings
After your starting location and destination(s) are set, you'll want to make sure you have the correct settings applied to Highway Weather. You'll be able to indicate what type of vehicle you're using, the units you'd like to see displayed, your average speed, and the display mode of the app you'd like to use.
For a deep dive into using the Setting Screen, check this article out.
Tap the three-dot icon pictured below to reach the Settings Screen: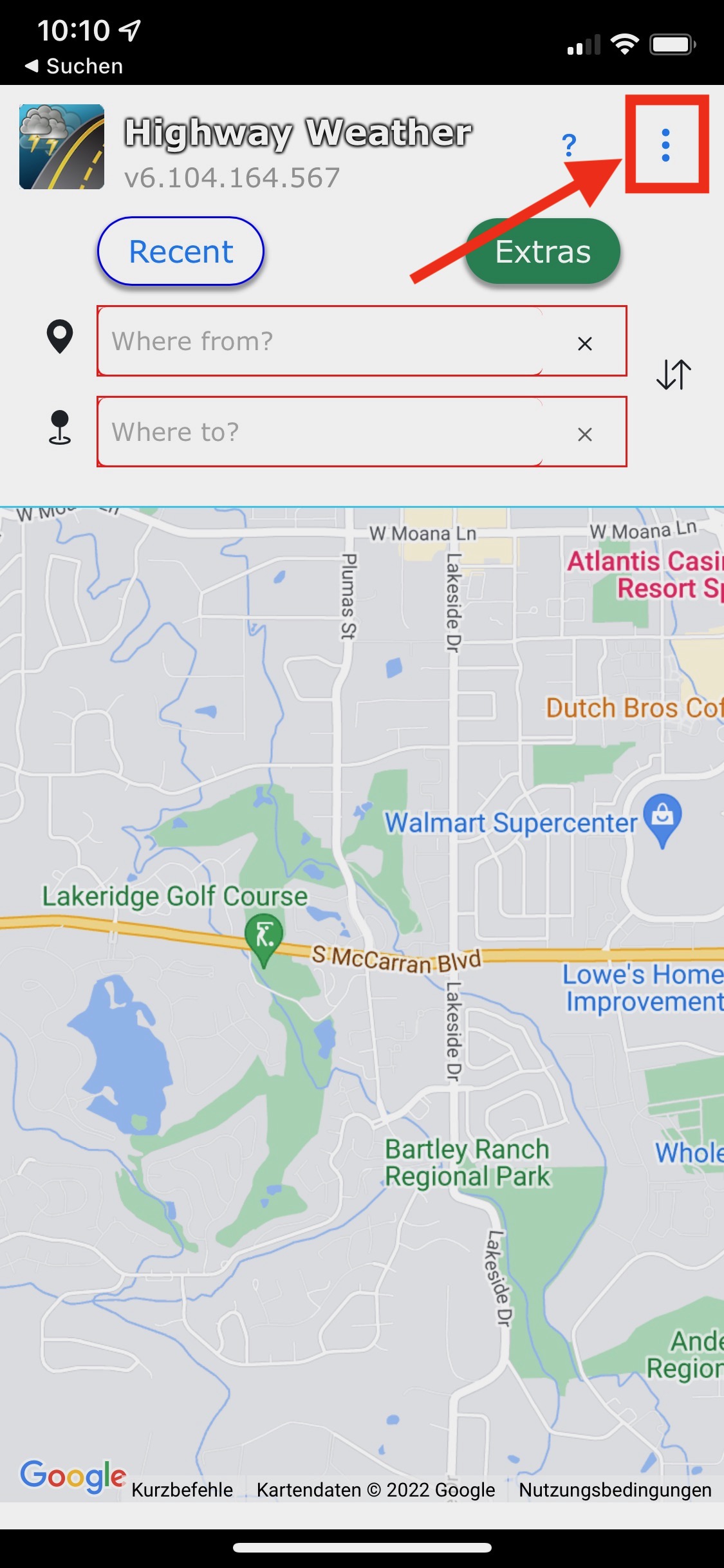 Select your settings according to what best fits your journey.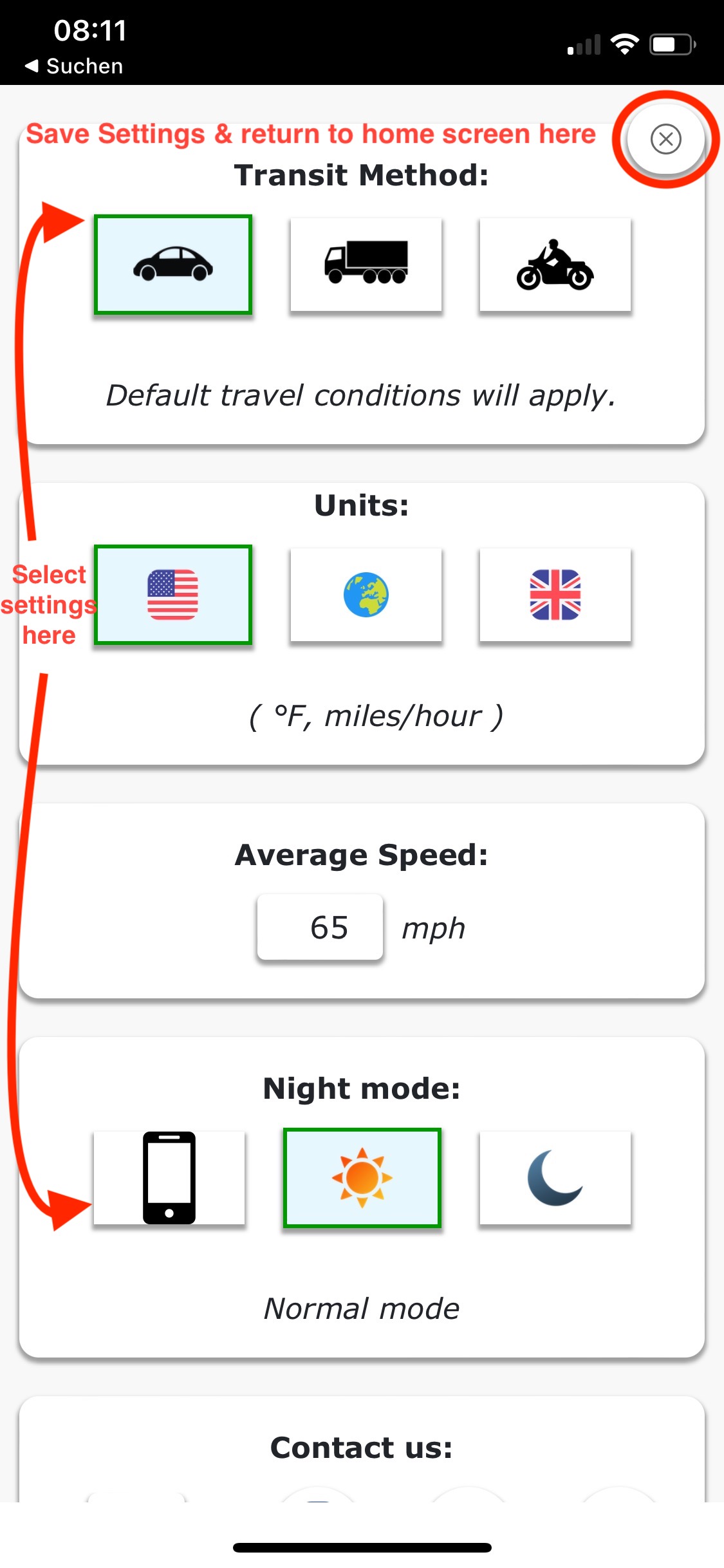 Route Selection Screen
Selecting a route & tapping "See Forecasts"
After saving settings and returning to the Home Screen, select your preferred route , and tap the "See Forecasts" button to continue to continue planning your journey.
If you have one destination, you'll be presented with up to three different routes. If you have more than one destination input, Highway Weather will return one, optimized route for you.
For more extensive information on selecting a route, see this article.
| | |
| --- | --- |
| 1. Select your preferred route | 2. Tap "See Forecasts" |
Summary Screen
After tapping "Plan Ahead", a modal will appear that summarizes your upcoming trip. Here, you'll be able to view your average speed (user input in Settings), total time in transit (not including rest stops), your arrival time if you were to leave immediately, and - based on upcoming weather for your specific journey - a suggested "best time to leave".
If you see that your average speed isn't quite what you'd like, you can edit this input directly from this modal by tapping the "Adjust Speed" button.
Hit the "x" button pictured below to continue.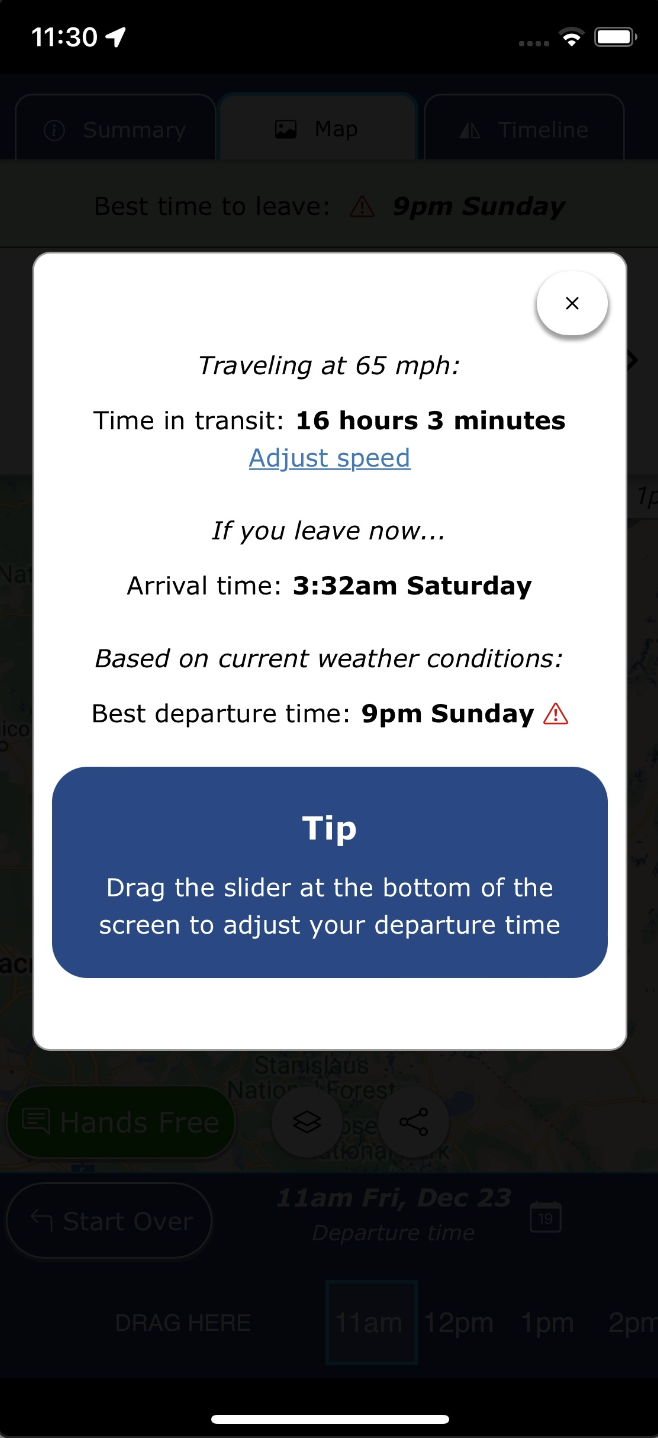 Map, Details, and Extended Tabs
Map Tab & setting your departure time
By default, you'll be taken to the Map Tab after choosing a route and viewing the route summary (pictured above).
From here, you'll be able to see a visual representation of your journey, Forecast Points, and various forms of weather data.
For a deeper dive into the Map Tab, check out this article.
Tap the "Layers Button" on the bottom-center of the screen to view various map layers that show different conditions and radar.
| | |
| --- | --- |
| Map "Layers Button" | Options Modal |
You'll also be able to set your departure time on this screen using the Time Slider pictured & exemplified below:
Timeline Tab & adding rest stops
The Timeline Tab is very helpful in viewing detailed information about each Forecast Point you'll encounter on your journey. Forecast information for each Forecast Point is calculated based on a couple factors:
Your set departure time (and average speed)
Any rest stops that have been added
In other words, each Forecast Point shows the weather at the time you'll encounter that point in your journey.
For an in-depth look at the Timeline Tab, go to this article.
You also are able to add and account for rest stops from the Timeline Tab.
Example of a short rest stop (e.g., a lunch break)

Note: the subsequent Forecast Points are automatically updated to reflect the rest stop.

Example of a long rest stop (e.g., an overnight stay).

Note: the subsequent Forecast Points are automatically updated to reflect the rest stop.
Travelers can view details of each Forecast Point all the way to their final destination.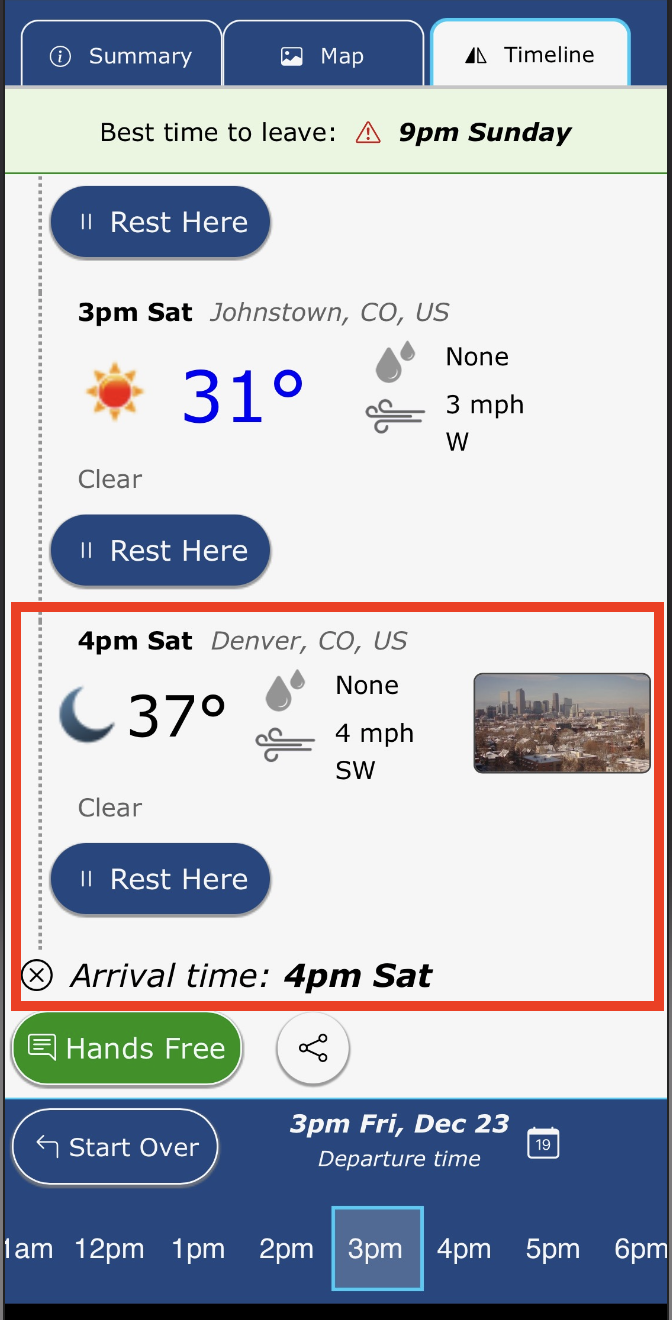 Summary Tab
The Summary Tab allows travelers to get a high-level look at weather forecasts for their route for the upcoming seven-day period along with an array of available traffic cameras.
Please note that unlike in the Map and Timeline Tabs, forecasts displayed in the Summary Tab are the weekly forecast summaries for the entire route rather than the specific forecast at the time you'll encounter that point in your journey.
For a deeper dive into the Summary Tab, check out this article.
Questions? Comments? Feedback? Concerns? Click the "Submit a Request" link below, or email us at support@weatherroute.io
Follow Us on Facebook for More Weather and App-Related Updates