In most cases, travelers will want to first plan their journey with our Plan Ahead feature. However, once your itinerary is set, your rest stops are planned, and you're confidently ready to hit the road, you'll want to use Highway Weather's "Hands Free" mode to receive real-time weather and road-condition updates as you travel along your route.
While we have other articles in place to help travelers learn about Highway Weather in an in-depth manner, this article will help you execute your journey safely and effectively by ensuring you're well-informed of the live travel conditions along your journey.
Note: Hands Free is a feature only offered in the subscription version of Highway Weather. To upgrade, follow the "Extras" button from the home screen, or tap the "Hands Free" button from the route-selection screen.
Home Screen
Note: Don't forget, most travelers will want to use our Plan Ahead feature to plan their journey before using Hands Free.
These are the instructions to go through the initial setup and directly to our Hands Free feature.
Entering Starting Location & Destination(s)
Upon opening Highway Weather, you'll first hit the Home Screen where you'll be asked to enter your starting location as well the destination(s) to which you'd like to travel. Here's what you'll see: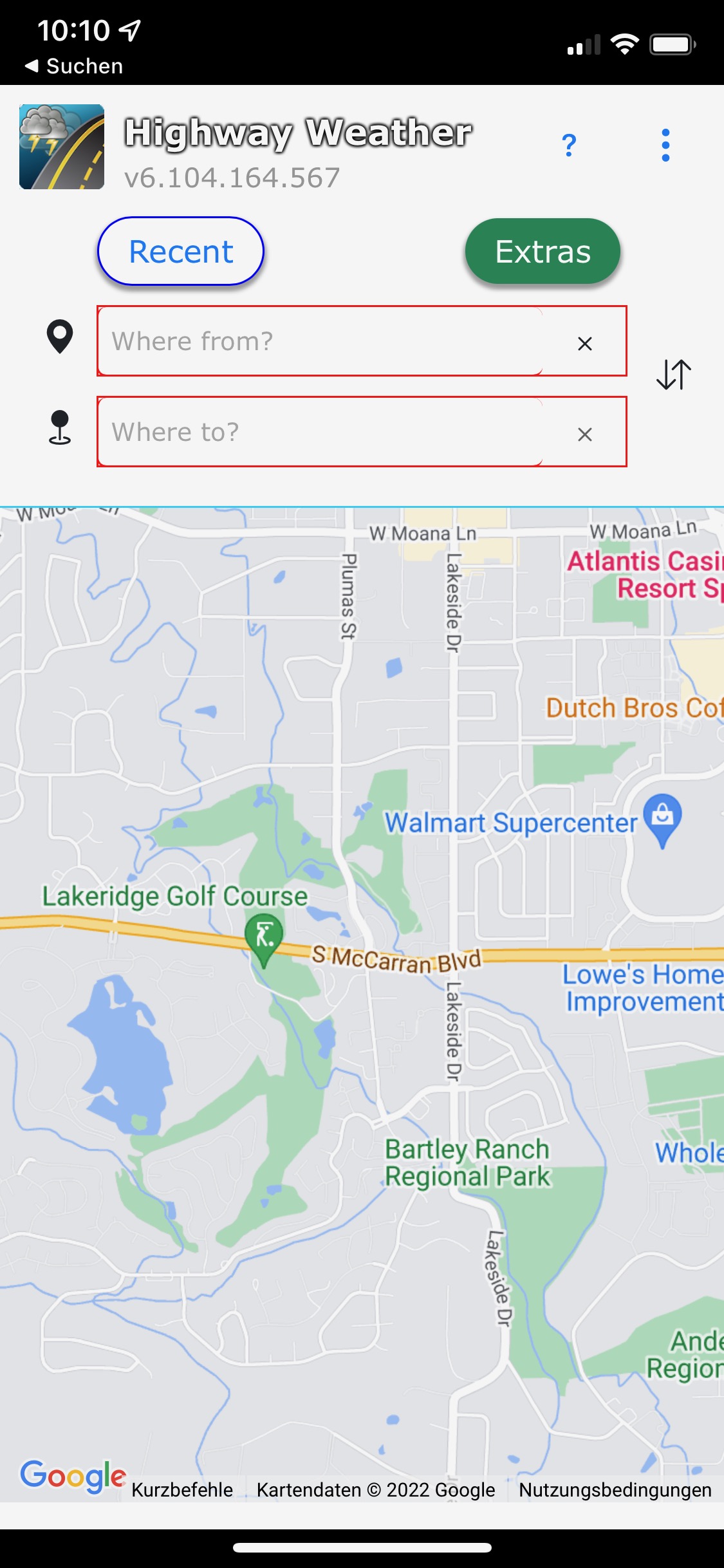 1. Either enter your starting location OR...

Alternative Method: Tap the button

2. Enter one or more destinations

You may be able to select your destination from an auto-generated list.

Here's what you'll see when your locations are set:
Setting your settings
After your starting location and destination(s) are set, you'll want to make sure you have the correct settings applied to Highway Weather. You'll be able to indicate what type of vehicle you're using, the units you'd like to see displayed, your average speed, and the display mode of the app you'd like to use.
For a deep dive into using the Setting Screen, check this article out.
Tap the icon pictured below to reach the Settings Screen: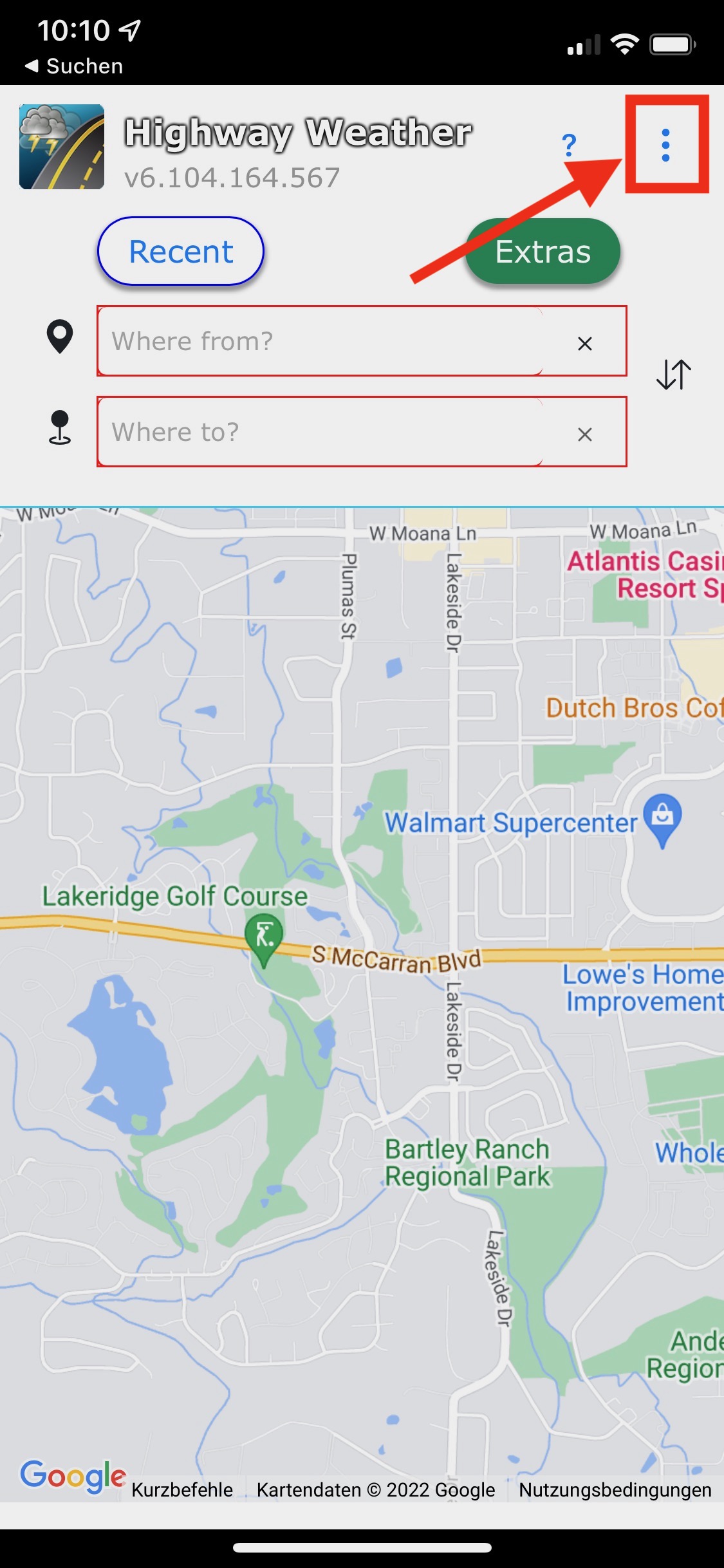 Select your settings according to what best fits your journey.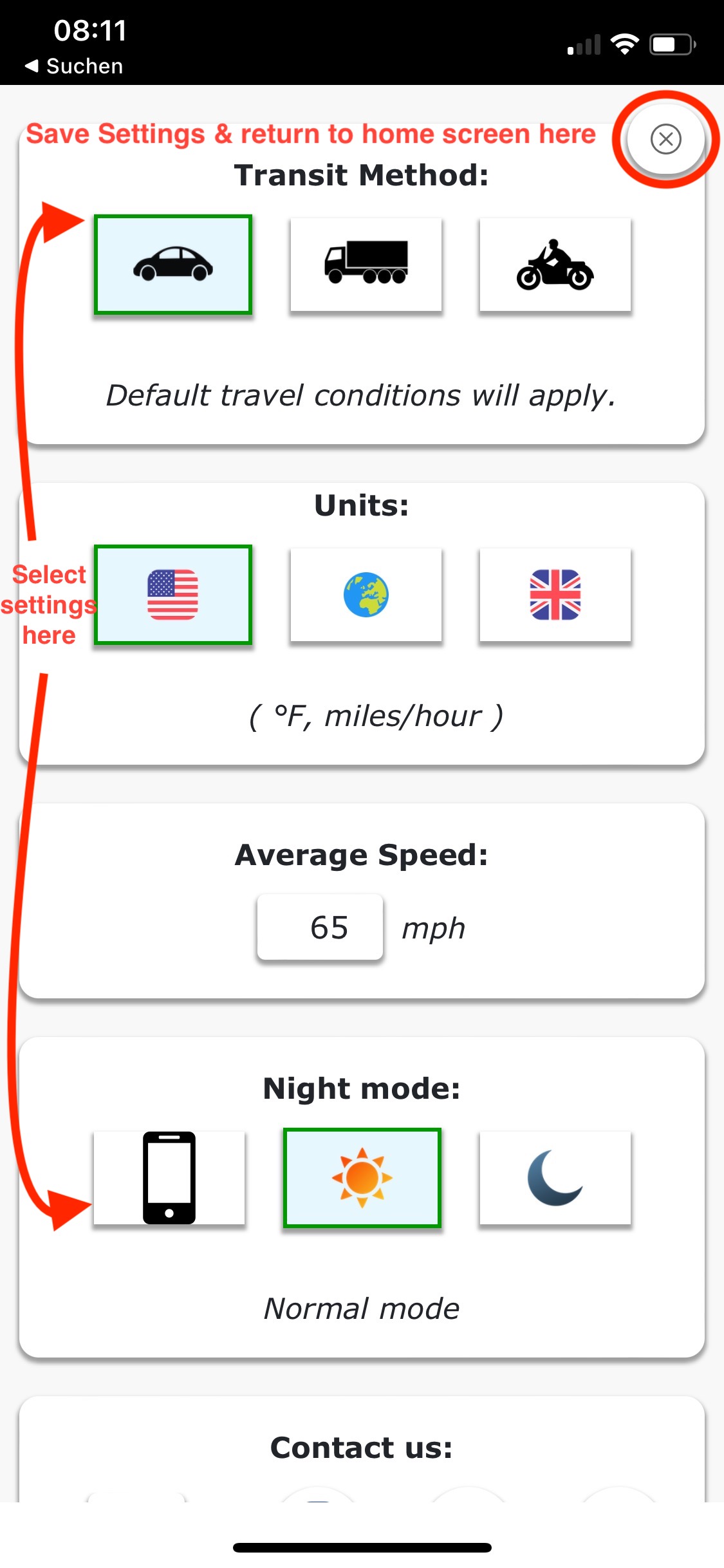 After saving settings and returning to the Home Screen, select a route.
Route Selection Screen
Selecting a route & tapping "See Forecasts"
If you have one destination, you'll be presented with up to three different routes. If you have more than one destination input, Highway Weather will return one, optimized route for you.
For more extensive information on selecting a route, see this article.
| | |
| --- | --- |
| 1. Select your preferred route | 2. Tap "See Forecasts" |
Hands Free Screen
After selecting "See Forecasts" and confirming your trip, you'll want to select the "Hands Free" button once you've planned your journey.
| | |
| --- | --- |
| 1. Tap "Hands Free" | 2. Start your Trip! |
"Housekeeping" Items
Legal Bits
Highway Weather's goal is to help you arrive safely. In keeping with that overarching aim, we have a few reminders that travelers will need to agree to since Drive Now provides live updates while you're on the road.
Upon your first time using Drive Now, you'll be shown the following screen. Go ahead and read through it, agree to the terms by checking the boxes, and finally tap "Next".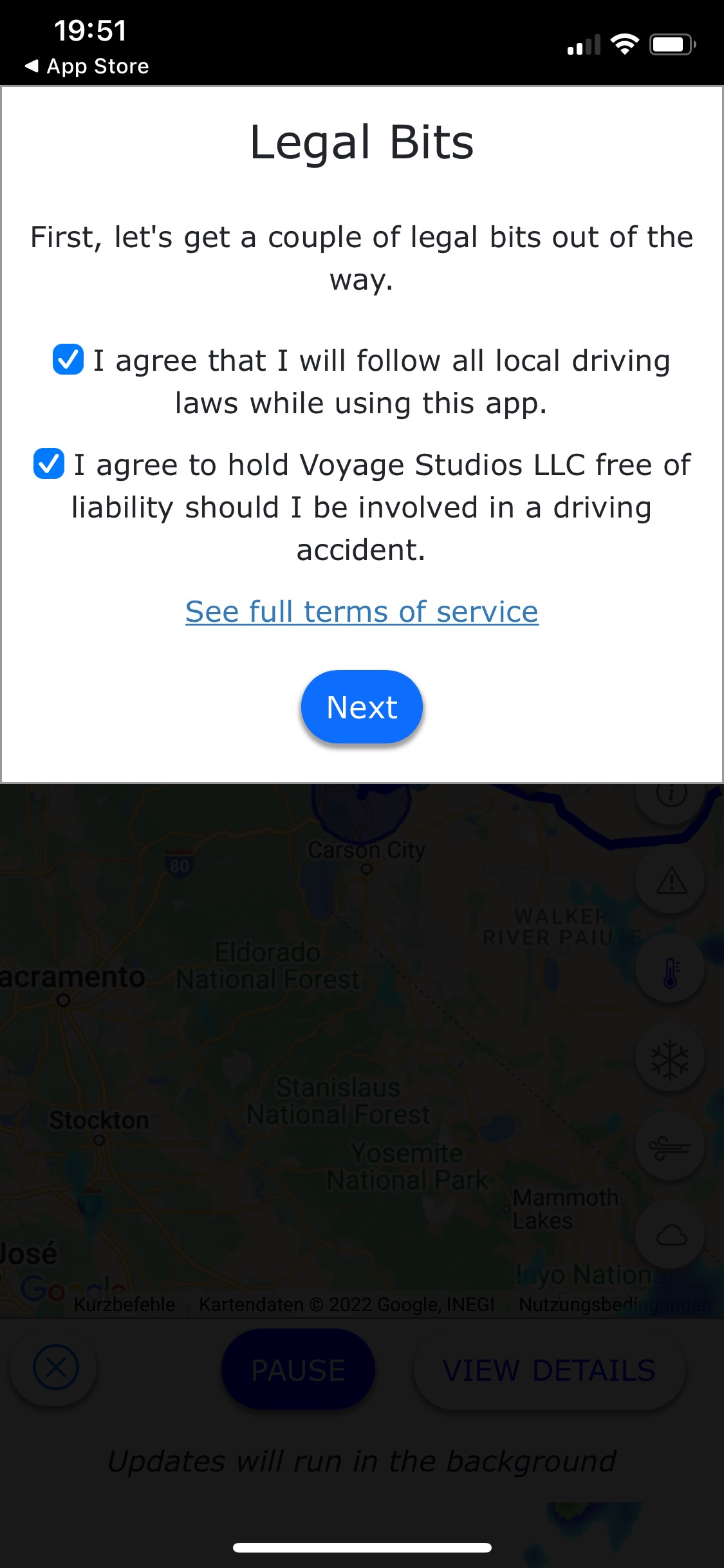 What is "Active Driving Mode"?
Next, you'll be shown a modal that explains exactly what's happening when you use Highway Weather's Drive Now feature.
Tap the "Next" button after reading this material through.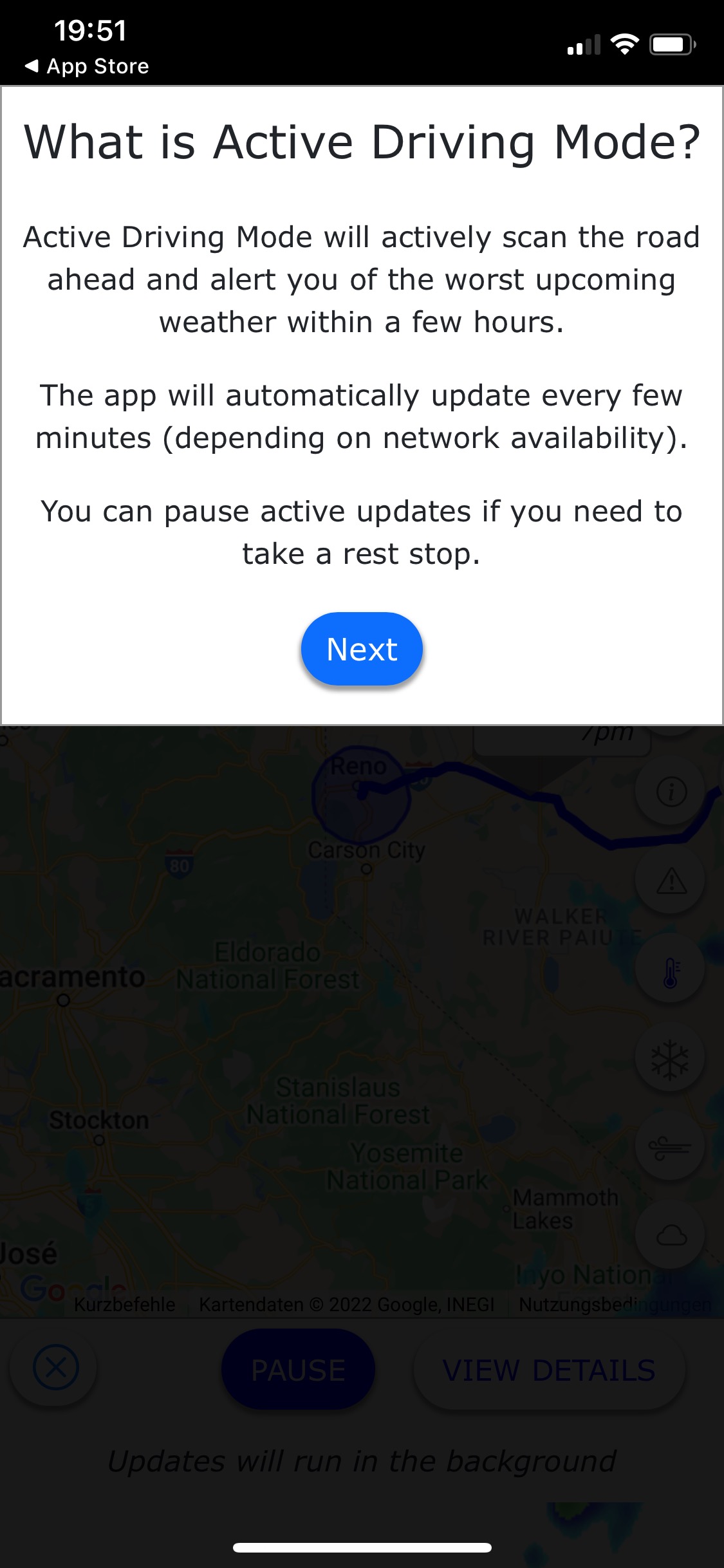 Drive Now Runs in the Background
Finally, our last informational modal for you to read through before embarking on your journey explains how Highway Weather in Drive-Now mode will continue to run and check for updates in the background - even if you switch apps on your phone.
Tap "Next" to start your trip once you've read though this information.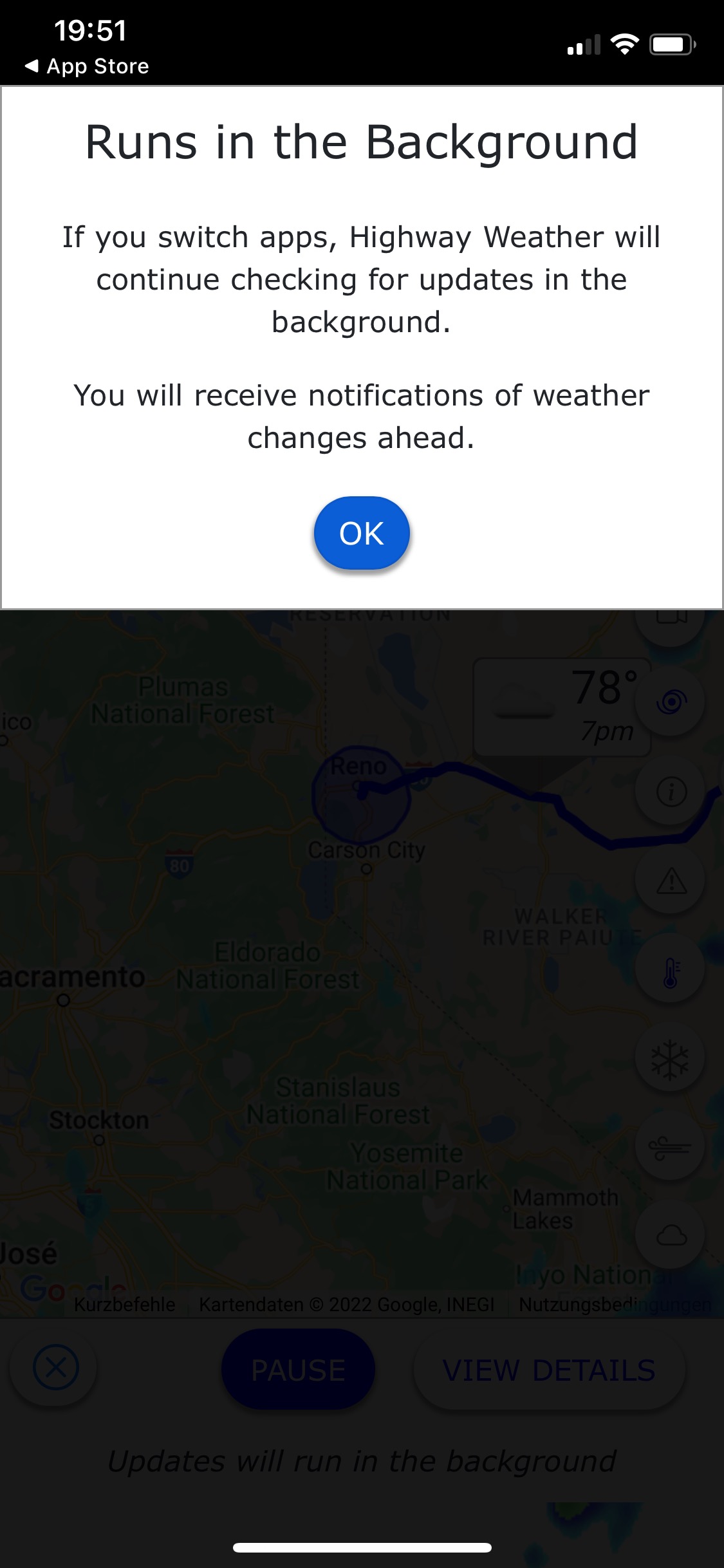 Hit the Road with Drive Now
Hooray! You're now ready to get going on your journey. Highway Weather will display your location along your journey's route, allow you to view the details of upcoming Forecast Points, and will notify you of upcoming weather / road alerts.
| | |
| --- | --- |
| Drive Now (Main View) | Drive Now (Zoomed In) |
| Viewing Details in Drive Now | Viewing an Expanded Alert |
Questions? Comments? Feedback? Concerns? Click the "Submit a Request" link below, or email us at support@weatherroute.io
Follow Us on Facebook for More Weather and App-Related Updates