The Map Tab is a powerful view within Highway Weather that allows travelers to reasonably digest a good deal of information regarding their upcoming trip.
The Map Tab plays a role in helping travelers determine when the best time to leave is, and it empowers those taking on the road with crucial weather visualizations that will help them arrive at their destination safely.
This article is a deep dive into the Map Tab's features and functionality.
You'll learn about:
Best time to leave
What a "Forecast Point" is & how they're displayed along your route
What a weather "Alert" is
What each button on the Map Tab does
How do I get to the Map Tab?
In order to reach the Map Tab, you'll need to input your starting location, destination(s), set your trip's settings (optional but highly recommended), choose a route, and tap "See Forecasts" (see screenshot below).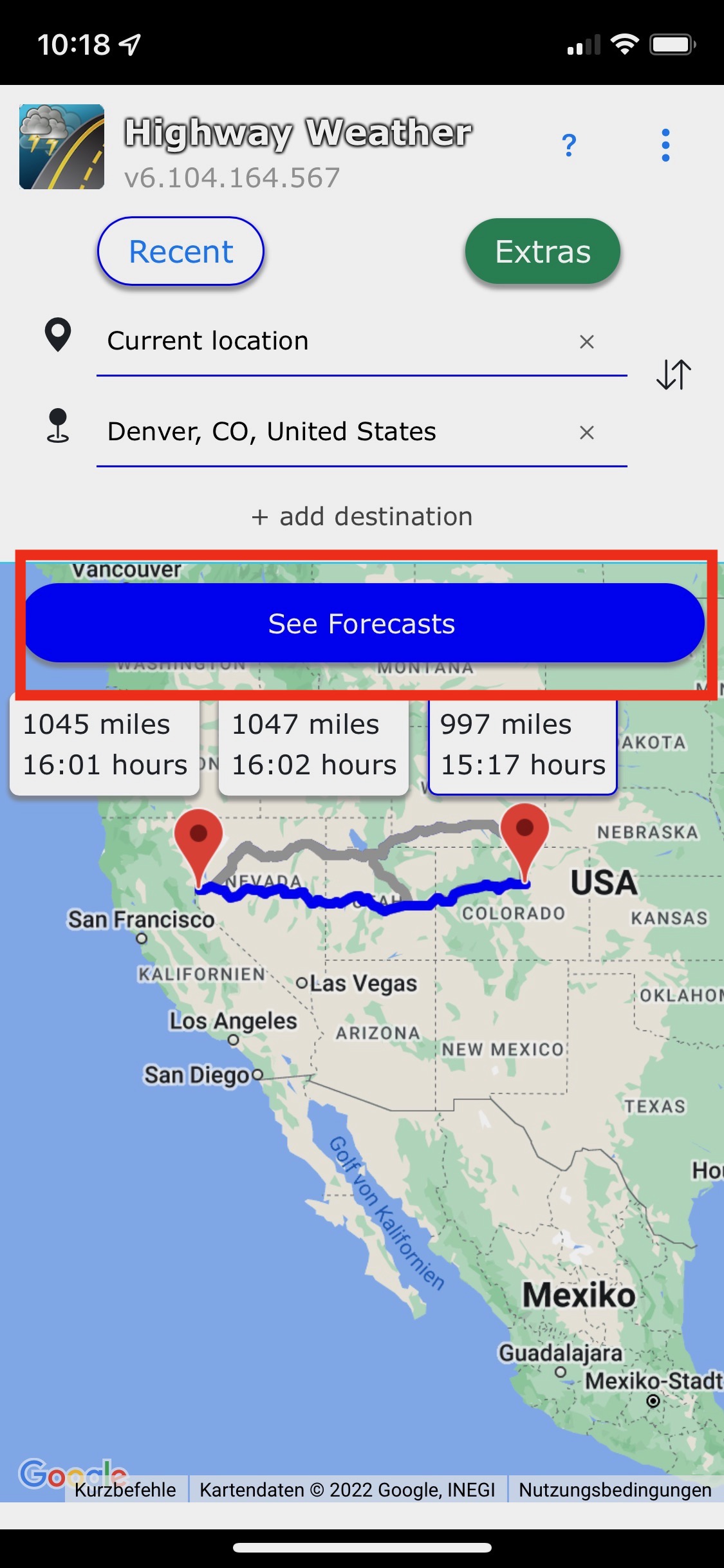 Upon tapping "See Forecasts", you'll be directed to the Map Tab shown below: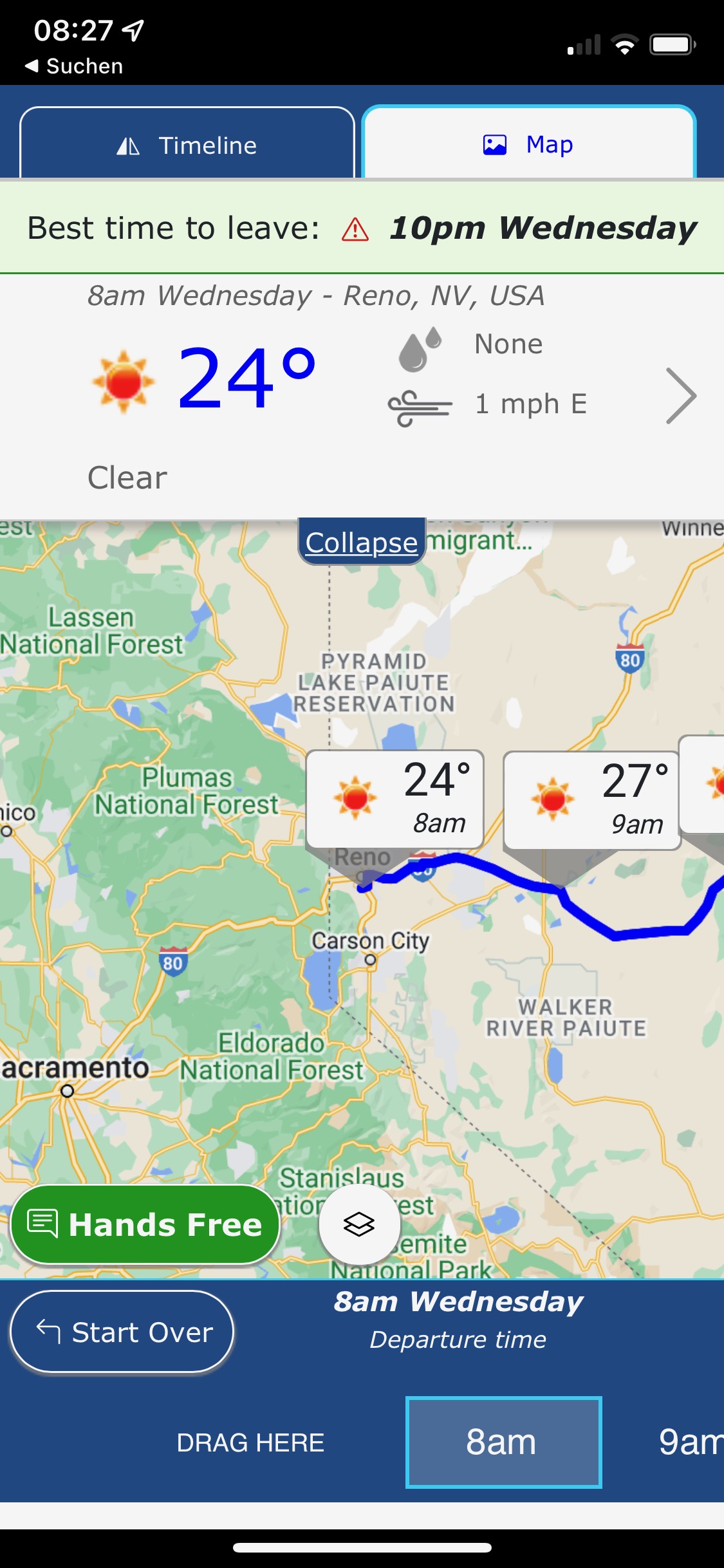 Now, let's break down each component of the Map Tab!
---
Best time to leave
One of the first things travelers will notice upon arriving at the Map Tab is the green banner suggesting the "Best time to leave".
The suggested time of departure is based on upcoming weather, but travelers can move the Time Slider to reflect their preferred time of trip commencement.
You'll notice that as you manipulate your departure time by moving the Time Slider, the Forecast Points displayed on the map will change to reflect future weather and road conditions.
For an in-depth look at the "Best time to leave" feature, check out this article.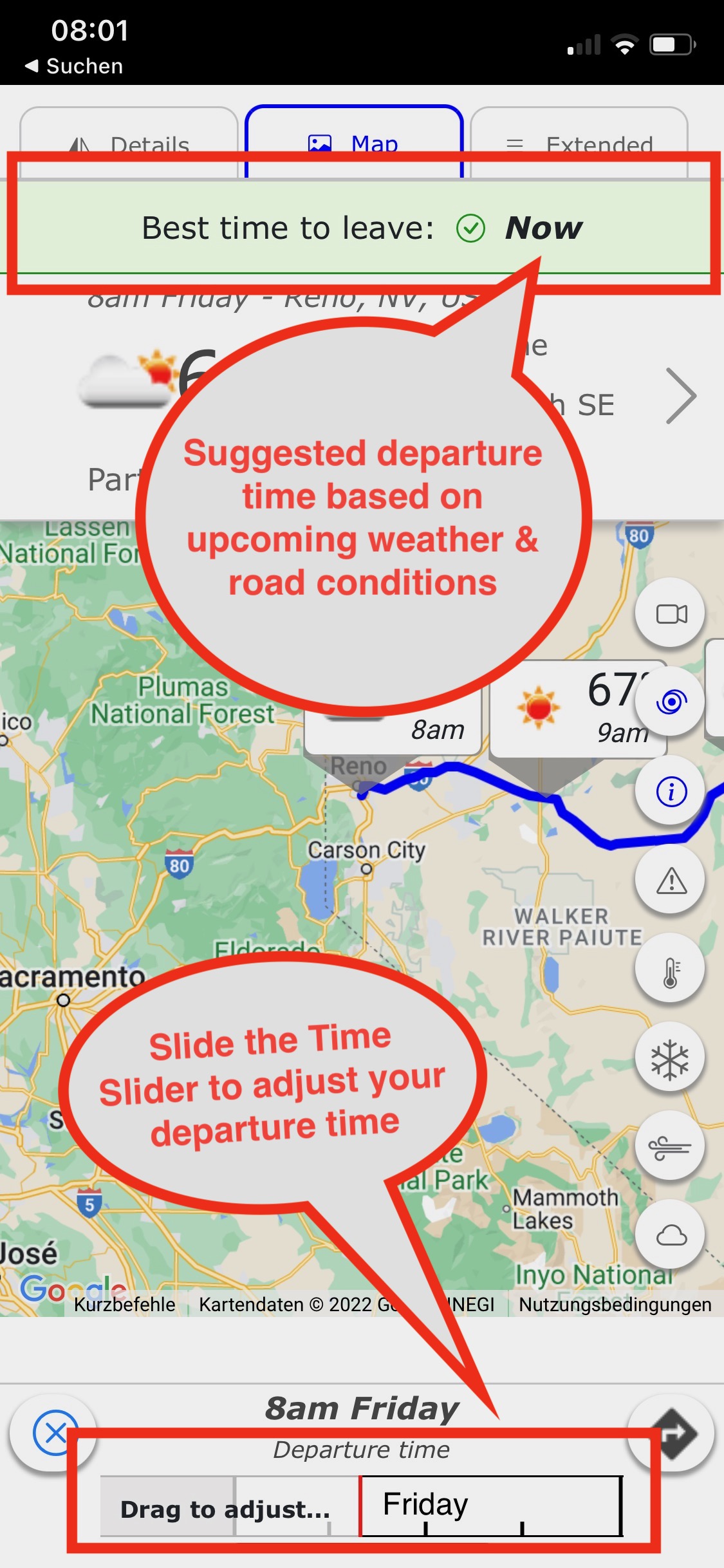 What a "Forecast Point" is & how they're displayed along your route
Forecast Points are calculated based on your ("user-input") average speed for your journey and are automatically plotted along your route at roughly one-hour increments.
Each Forecast Point can provide relevant weather and road-advisory information. The default Forecast Points that are displayed show:
The time of day at which you'll arrive to the Forecast Point
The temperature at the Forecast Point at your time of arrival at that specific point in your journey
A quick-&-easy-to-interpret graphic showing the general weather conditions at your time of arrival at that Forecast Point
Forecast Points are displayed in two ways on the Map Tab:
| | |
| --- | --- |
| Along the Route Map | Sequential, "Tap-Through" Format |
Alerts explained
When weather and road alerts and warnings exist at any point in your journey, Highway Weather will make sure you're covered by clearly displaying anything you should know about right on screen.
You'll see a red "Alert" button, and when you tap it, you'll see a full report of what, when, and where so you're fully prepared and can adapt accordingly.
| | |
| --- | --- |
| On-Map Alert | Tap the Alert to Open Complete Info |
Buttons on the Map Tab explained
You'll notice an array of buttons with icons on the right-hand side of your Map Tab screen. Each button will display a different type of Forecast Point data or map-overlay data.
Traffic Cam Display

The Traffic Cam icon pictured below will display the live traffic cam for that Forecast Point. Note that traffic cam feeds aren't available everywhere. The icon will not display if there isn't a cam feed in the area. Check out this article [ADD LINK] for more information.

Radar Display

Selecting the radar icon (highlighted in the screenshot below) will display a map overlay of weather radar. As you can see in this case, this traveler will be dealing with some precipitation.

Default Information Display

The default display is a button with an "i" in the middle of it. It will display each Forecast Point, the weather at that point when you'll arrive or pass through, and the time of day you're slated to arrive or pass through.

Weather / Road Warnings Display

The Weather / Road Warnings icon will indicate where along your route (if anywhere) there are signifiant road conditions that may affect your journey.

Temperature Display

The Temperature icon will reduce what's displayed to only the temperature at the Forecast Point at the time of your arrival at that point.

Precipitation Display

The snowflake icon will, indeed, represent snowfall, but it will display any kind of upcoming precipitation (rain, sleet, hail) at each, upcoming forecast point.

Wind Gust Display

Incredibly handy if you're traveling in a truck (of any kind), RV, or are towing a trailer, the Wind icon will display significantly windy conditions along your route. You'll see the wind icon if there's notable wind around a Forecast Point.

Simple Graphic Display

If you'd like to keep things straightforward and only see a graphic display of the weather you're in for at each Forecast Point, select the bottom icon. This Simple Graphic display won't bog your high-level planning down with too much detail.
Questions? Comments? Feedback? Concerns? Click the "Submit a Request" link below, or email us at support@weatherroute.io
Follow Us on Facebook for More Weather and App-Related Updates