Before selecting a route, travelers will want to check and adjust their Settings in order to set their transit method (vehicle type), display units, average speed, and more.
This can all be done within your Settings Screen.
Check out the video and in-depth article below to learn more.
Opening the Settings Screen
Upon opening the app, you'll find an icon displaying three dots that will open the Settings Screen. Check out the screenshot below to see where you'll tap: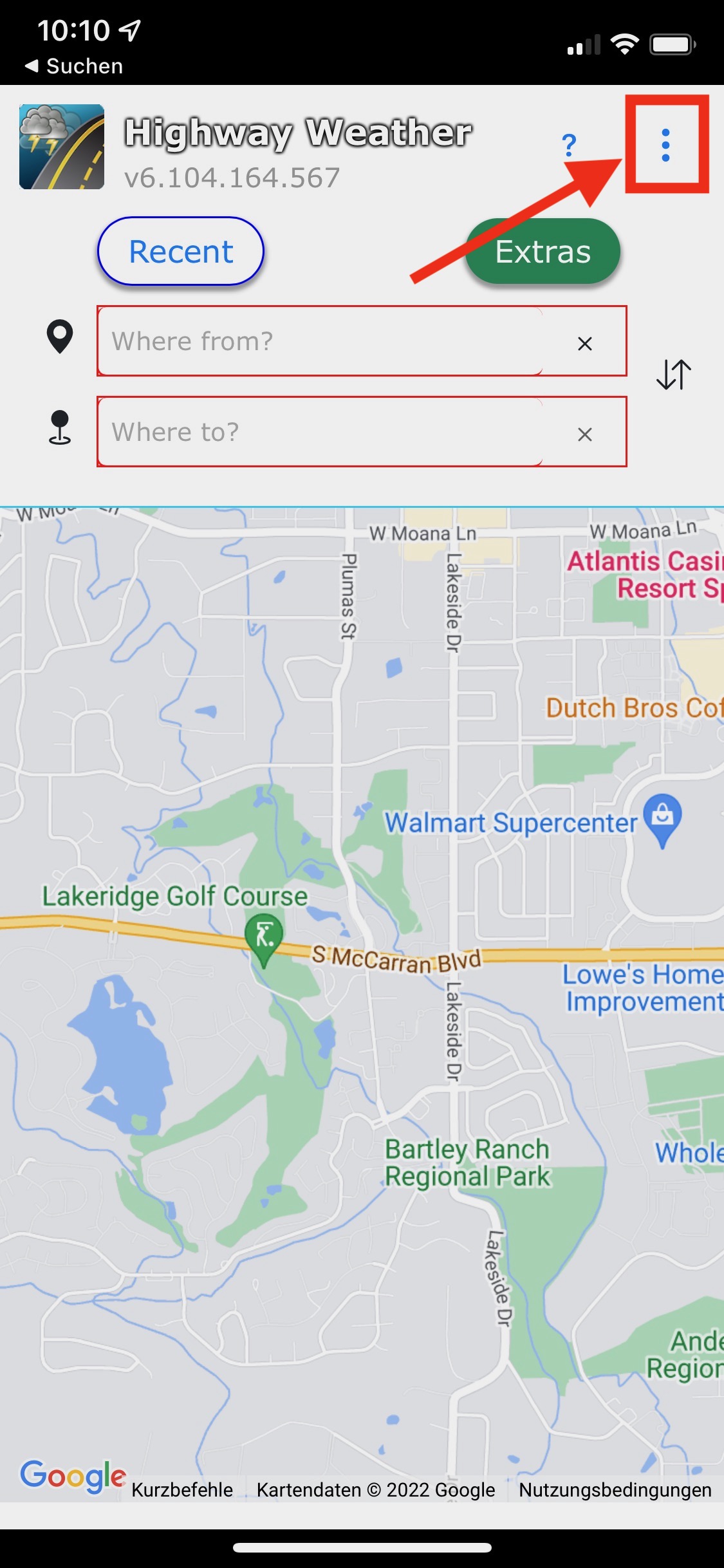 Using the Settings Screen
Selecting your transit method
The method of transit you select is important. Depending on your selection, Highway Weather will account for certain physics of your vehicle, optimizing your journey accordingly.
If you're in a car, passenger pick-up truck, or SUV, select the "car" icon.
If you're in a semi-trailer truck / lorry, box truck, RV, or towing a boat, camper, or other large trailer, select the "truck" icon.
If you're on a motorcycle, select the "motorcycle" icon.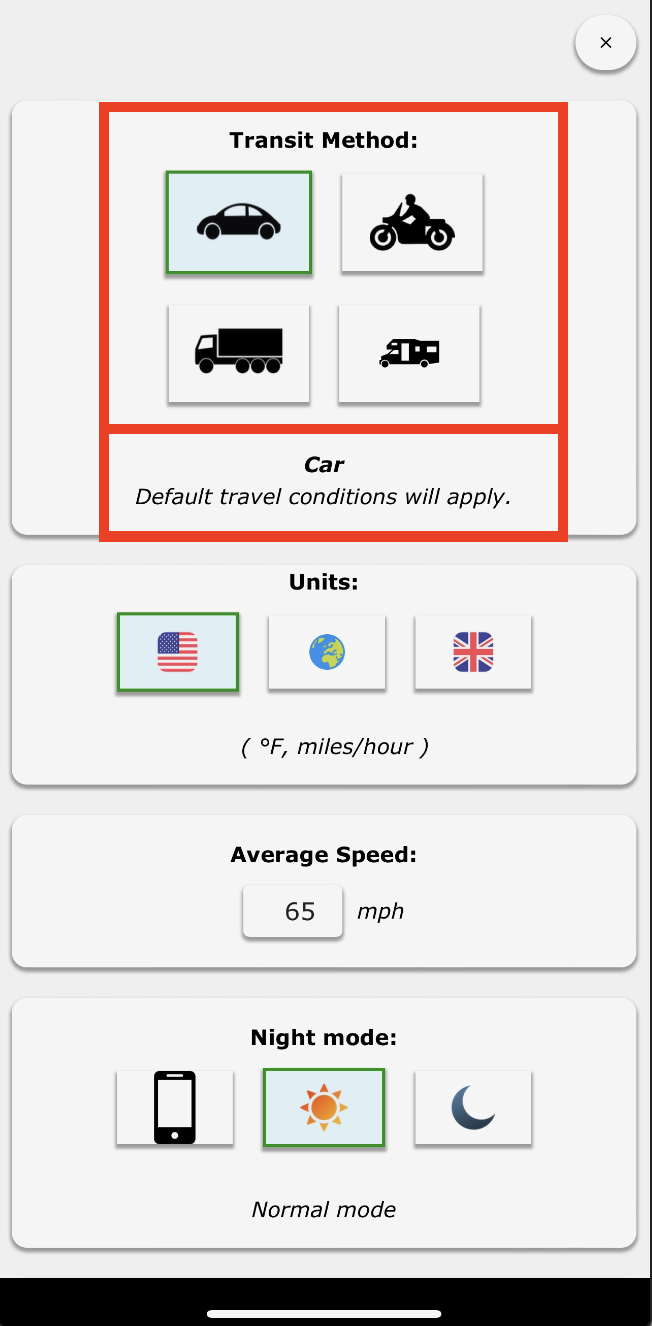 Choosing your display units
Whatever your preferences and location may be, Highway Weather allows you to choose the type of temperature, speed, and distance units displayed. You may select between:
Imperial (US): Temperature displayed in Fahrenheit; Speed / Distance displayed in miles-per-hour
Metric (International): Temperature displayed in Centigrade (Celsius); Speed / Distance displayed in kilometers-per-hour
United Kingdom: Temperature displayed in Centigrade (Celsius); Speed / Distance displayed in miles-per-hour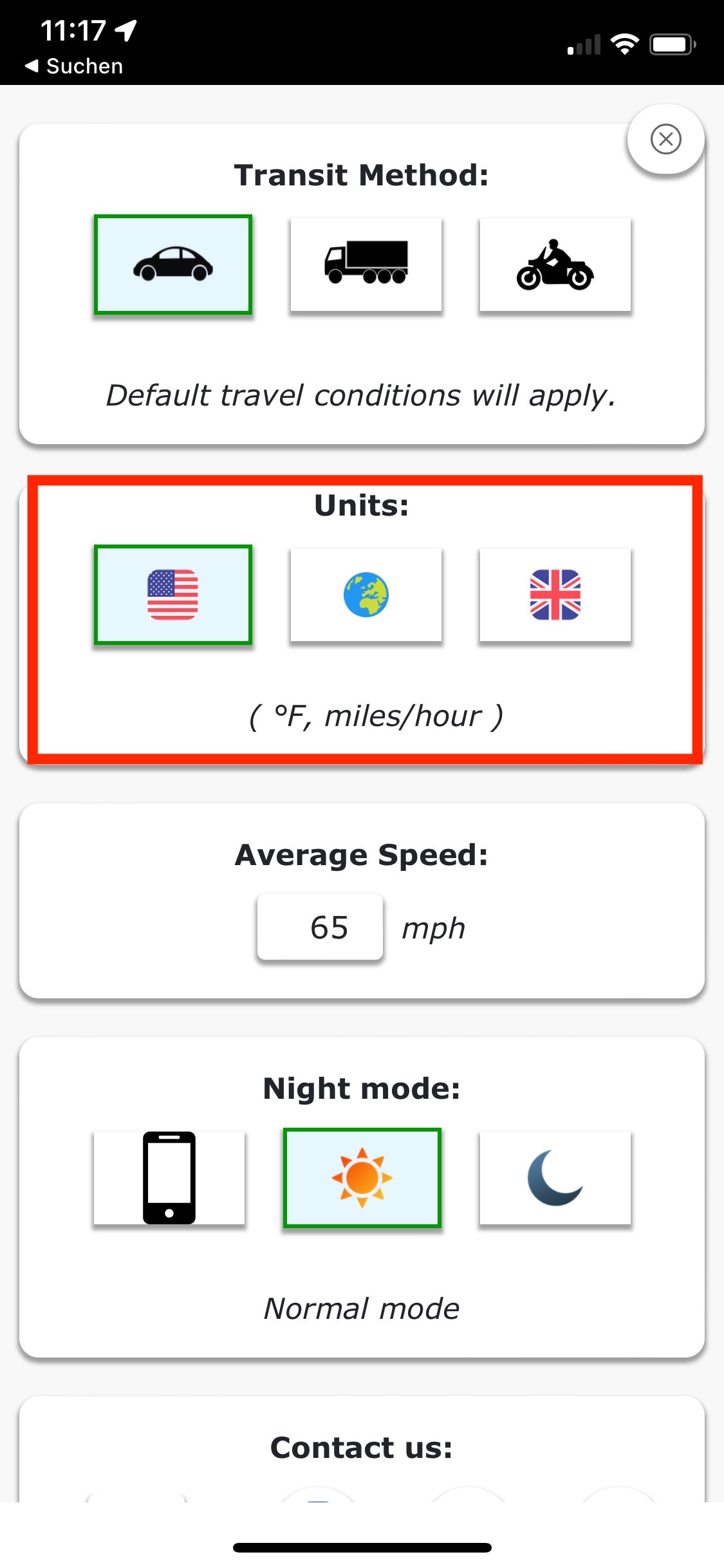 Inputting an average speed
Selecting and setting an average speed is an important overall step when planning your trip. As with your vehicle type, your selected average speed plays a role in Highway Weather's prediction models. Don't worry about getting too granular or exact here, but a ball-park estimation will help improve your experience.
For more information on the relevance of setting an average speed and some tips on how to set your speed, please read this in-depth article on the subject. [Article Coming Soon!]
Here's where to change your average speed: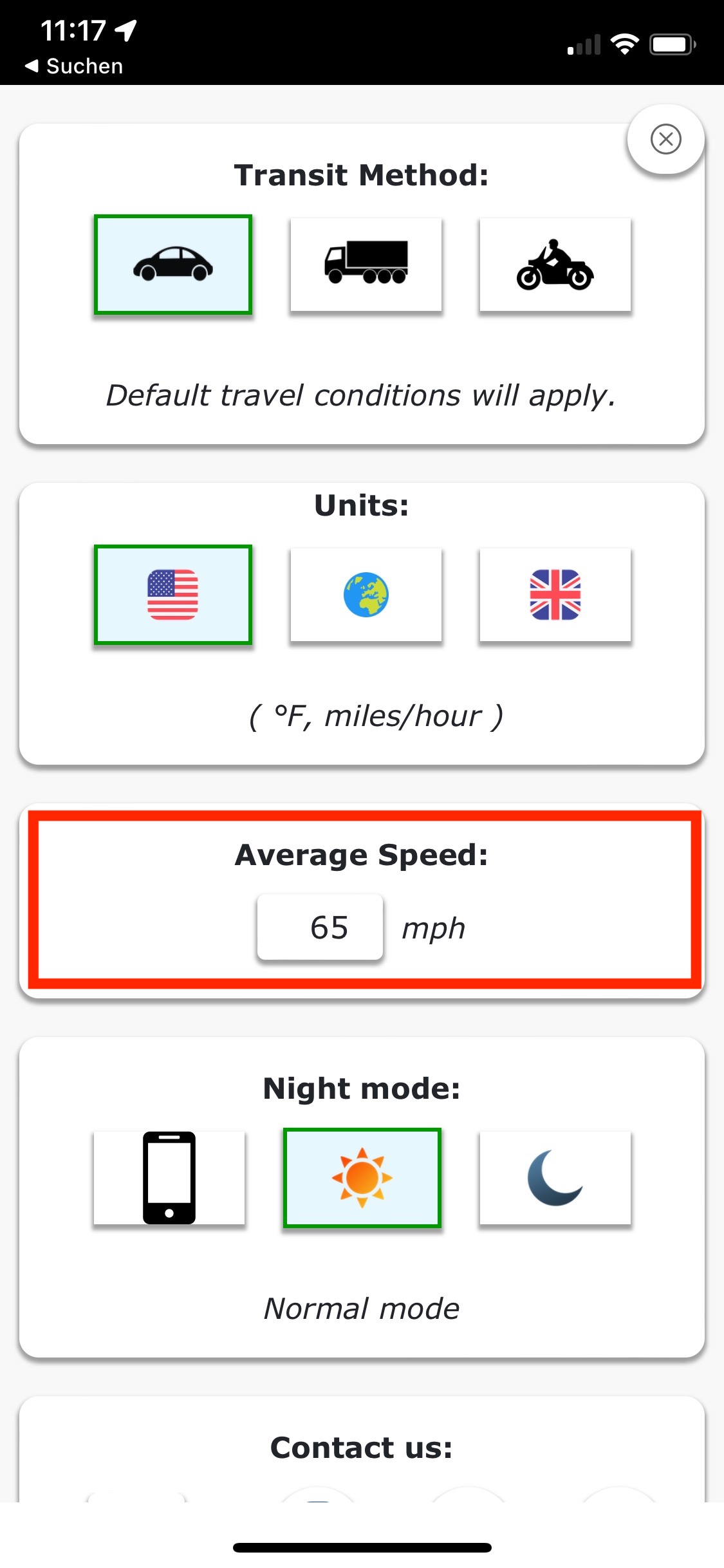 Choosing a display mode
Highway Weather's display mode options allow travelers to select the screen display that best fits their needs. You're able to select from the following options:
Device's Operating System's Setting - If your phone is always set to a darker, "night" setting, or is always set to a bright display, selecting this mode will link Highway Weather's display to your phone's setting.
"Normal Mode" - Normal mode will display the Highway Weather app with the standard, brighter color scheme.
"Night Mode" - Night mode can be helpful when viewing routes and travel weather data in the dark. Night mode switches the display to a darker, more-easily readable-at-nighttime scheme.
You can toggle between modes here: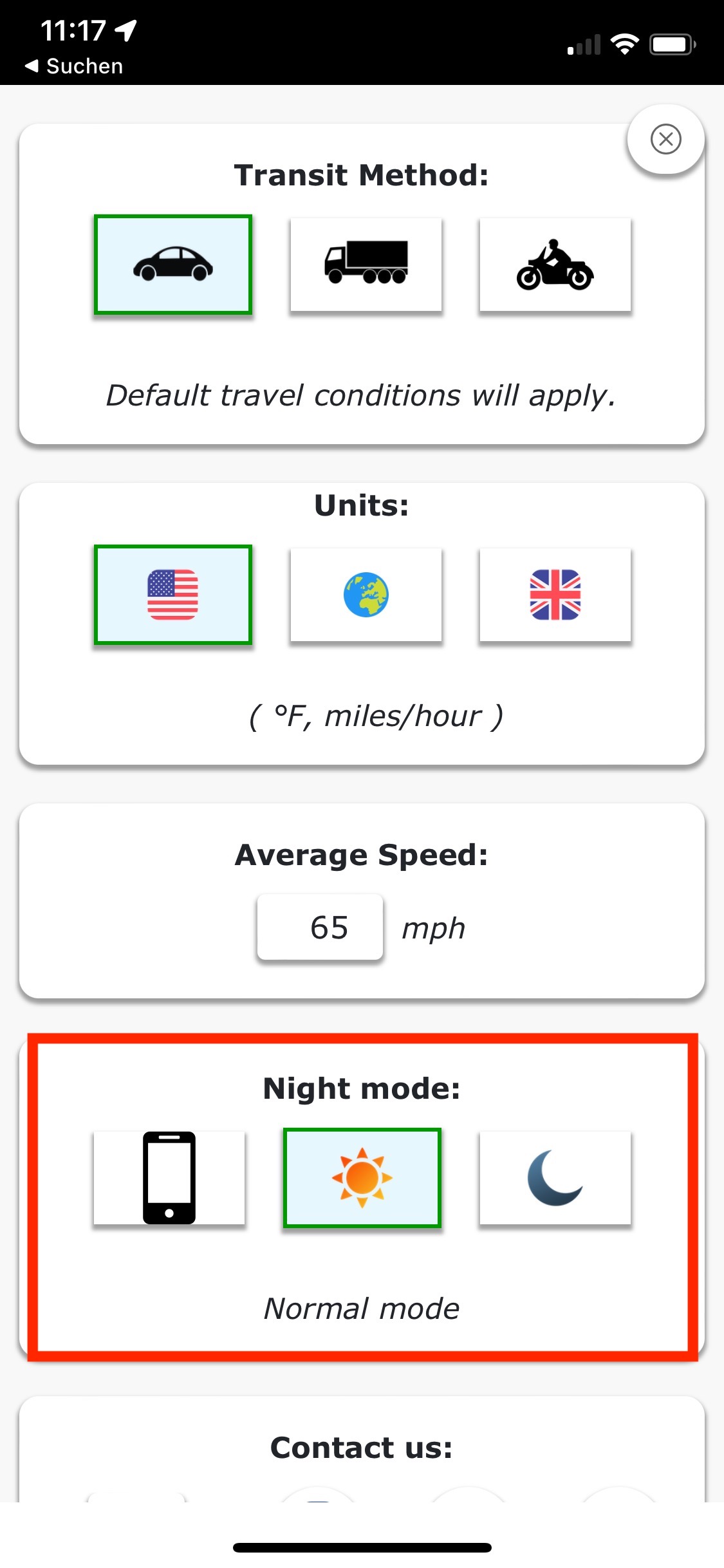 Here are examples of Night mode:
| | |
| --- | --- |
| Night Mode View from the Setting Screen | Night Mode View from the Map Tab |
Contact us
The bottom of your Settings Screen gives you easy links to get in touch with us should you have any questions, concerns, issues, and / or feedback. Feel free to reach out to us from your Settings Screen, anywhere else in the app you see a question-mark icon, or drop us a line directly at support@weatherroute.io!
Questions? Comments? Feedback? Concerns? Click the "Submit a Request" link below, or email us at support@weatherroute.io
Follow Us on Facebook for More Weather and App-Related Updates